Sponsored Links
For Europe/Asia:
---
Editorial: DesignLights Consortium Racks Up 50K Listings

... In 1996, the DesignLights Consortium was founded as a regional non-profit whose mission was to serve the Northeast and Mid-Atlantic to accelerate energy efficiency in the building sector through public policy, program strategies and education. As a project of Northeast Energy Efficiency Partnerships (NEEP). In its own (correct) words,...
Read the editorial...
(or permalink is here)
Features:
Welcome to your LED Applications news channel!
The opportunities presented by the increasing rapid adoption of high brightness LEDs, in all their forms and applications, represents nothing short of a "digital revolution" for a previously "analog" world. LEDs are having a substantial disruptive effect on a number of established technologies, and where there is disruption, there is an intense need for information.
LIGHTimes Online is here to serve the information needs of the LED industry supply chain, as well as integrators and non-architectural application solution providers with technology, product and market news updates for these rapidly evolving devices. Our readership also includes LED packagers, technology enablers and service companies seeking the the answers to how best to meet their customers' needs.
For architectural lighting and applications news of interest specifically to lighting designers, specifiers, and architectural lighting decision makers, along with luminaire designers, lighting system integrators and lighting subsystem developers, please visit our sister publication, Solid State Lighting Design.
---
SSL is booming and the 2011/2012 Summit Series is coming back to keep the message on quality
Launched in 2008, the SSL Summit will bring the quality story to New York City in October 2011, and then back to LA in March 2012. At every one of the Summit events, the feedback remains consistent: Just what we need, do it again soon. The Summit brings together lighting decision makers with industry thought leaders, pioneers, and innovators from the across the solid state lighting eco-system.
Continuing the tradition, 2011/2012 will continue to be all about quality, quality, quality. Showcase participants and sponsors are vetted to separate the wheat from the chaff (have your IES LM-79 test reports ready!). Last year's event in NYC included representatives of over 100 million square feet of developed property, and the one thing we don't want to leave out for 2011 is you! Look into the series information at www.SSLsummit.com for the details. Sponsorships are available for the full series.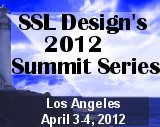 ---
Lakewood Church Upgrades Displays with Higher Resolution Daktronics LED Video Displays
LIGHTimes News Staff
July 17, 2014...
Lakewood Church in Houston, Texas got two new LED video displays from Daktronics Inc. of Brookings, South Dakota USA. Daktronics designed, manufactured and installed two new LED video displays to replace the existing Daktronics displays with a higher resolution display that features 4-millimeter line spacing in a full black package.
The church uses the displays to show inspirational images and stories during service or reveal IMAG (Image Magnification) shots as well as live video of the sermon and song lyrics that allow the congregation to follow along. The feed shown on the new LED displays is the same video shown on the video displays inside the church.
The display installation continues the nine-year relationship between Lakewood Church and Daktronics. The installation employs the existing structure to support the new displays that measure more than 12-feet high by 22-feet wide that replaces the two previously installed 8-millimeter pitch displays positioned on each side of the main service platform. Installing each display took roughly five days between Dec. 1 and Dec. 13.
"We started tearing down one of the old displays after the final service on Sunday and had the new display installed and operational before the Saturday service at the end of the week," said Nathan McGillivray, Daktronics project manager of the installation. "It was critical for Lakewood to have zero display downtime, so we installed one display the first week and the other display the following week. Services went off without a hitch and with full video display functionality."
"After the displays were installed, the wardrobe and makeup departments had to be notified of everything that was now visible on the new high-definition displays," said Joel Henie, Daktronics sales representative.
Henie said, "A trip to the recent installation at Saddleback Church really helped confirm Lakewood's choice to upgrade with Daktronics."
The upgrade reportedly offers image clarity and contrast that now makes everything much more visible to the audience, from lint on clothing to blotches of makeup and powder.
NEP's Screenworks Launches Largest Mobile LED Screen Trailer in North America
LIGHTimes News Staff
July 15, 2014...NEP's Screenworks of Corona, California announced that it introduced the largest mobile LED screen trailer in North America. The National Hot Rod Association (NHRA) will employ the screen trailer at all NHRA Mello Yello Drag Racing Series events. The new screen trailer, called BigMo 4, includes an LED display measuring 19 feet high by 33 feet wide with an additional 4-foot ad banner around the entire perimeter. The display, which is an unprecedented size for a trailer-based device, offers enhanced viewing for the on-site fans and provides an integrated branding opportunity for NHRA and its sponsors.
"Having this new BigMo on site this season has definitely enhanced the live race experience for our fans," said Jim Trace, NHRA's director of broadcasting and video communications. "We want everyone at the track to experience all of the drama of the race up close, and the massive screen on BigMo 4 really works to amplify the action. With the addition of the ad banners, we also have a really unique way of connecting the NHRA brand and our sponsors to the fans while they are engaged, on site and having a great time."
BigMo 4 is part of a family of mobile LED display trailers that NEP Screenworks designed and developed. These BigMos displays feature an enormous LED screen that rises above the trailer's roof and can easily be adjusted and turned to offer the optimal viewing angle. Also, they all supply their own power and have a self-contained, climate-controlled production room. NEP Screenworks designed the BigMos for use in large, open outdoor spaces for a variety of major festivals, sporting events, and large outdoor civic events such as NHRA, NASCAR and IRL races.
"Our fleet of BigMo LED screen trailers provide the perfect solution for clients who need a quick, easy, large display solution to enhance a live event," said Screenworks Director of Racing, Sam Artinger. "BigMo 4 will follow NHRA for the next four seasons, traveling to twenty-four races each year. Because it is an entirely self-contained solution, it can set up in less than two hours, cover the race live, and then easily pack up and drive to the next location."
FDA Approves New Pulsaderm LED Blue Light Therapy Device for Acne Treatment
LIGHTimes News Staff
July 15, 2014...Pulsaderm, the U.S.-based skincare device company, announced the launch of the FDA-Cleared Pulsaderm LED Blue at the 2014 Cosmoprof North America. The FDA-approved Class II Medical Device is available for $189. Pulsaderm designed the device with blue LED technology to provide a non-invasive and painless treatment for mild to moderate inflammatory acne. Pulsaderm LED Blue reportedly offers a safe, effective, and affordable alternative with competing FDA-approved light therapy devices which often sell for well over $500. Pulsaderm has made its LED Blue into an over-the-counter version of the blue light therapy that many dermatologists use.
"We are ecstatic that Pulsaderm LED Blue has been rigorously tested and approved by the FDA," said Pulsaderm founder and CEO Yvonne von Berg. "Following the enormous success of the launch of Pulsaderm and Pulsaderm Buddy facial cleansing brushes, adding Pulsaderm LED Blue seems like a natural addition to the brand's growing line of affordable and effective beauty products."
The device employs blue light at a wavelength of 415 nanometers (nm). At the device's light frequency and intensity, the light penetrates into the skin's pores to activate light-sensitive porphyrins, in the outer cell membranes of acne or acne-causing bacteria. Certain wavelengths of light cause porphyrins to produce free radicals. These free radicals ultimately kill the acne-causing bacteria without harming healthy skin. The device utilizes 97 non-damaging LED lights for nearly four times as much power as most of its competitors. According to the company, the brightness guarantees faster results for clearer, blemish-free skin. Blue light therapy is 100 percent natural, non-invasive and drug-free acne treatment process with no short-term or long-term adverse side effects. The company boasts that the gentle and painless therapy reveals visible improvements with each use.
"With innovative advancements serving as the backbone of Pulsaderm, it's in the brand's DNA to revolutionize skincare," added von Berg. "All of the Pulsaderm products were created in an effort to prevent and resolve skincare problems at affordable prices. By incorporating the latest cutting-edge technology in each product throughout the line, Pulsaderm aims to deliver a new sense of clean."
BOE Technology Group Expands Evaluation Agreement with Universal Display Corporation
LIGHTimes News Staff
July 10, 2014...Universal Display Corporation, maker of the UniversalPHOLED® technology and materials, announced that the company has expanded the evaluation agreement with BOE Technology Group Co., Ltd. Under the terms of the agreement, Universal Display will supply additional OLED (PHOLED) materials for display applications and broaden its collaboration with BOE.
"UDC is the leading phosphorescent OLED material supplier. Through establishing close partnership, we hope to push forward the development of OLED industry together with UDC and other industry partners," said Wang Dongsheng, Chairman of BOE Technology.
Recently, BOE invested in an AMOLED pilot production line for its Hefei G8.5 fab. With this pilot line, BOE reportedly developed a 55'' 4K2K AMOLED TV module sample which the company exhibited in SID 2014 Display Week. Additionally, BOE plans to produce small and medium AMOLED displays at its AMOLED production line in Ordos.
"We are very pleased to broaden our partnership with BOE, the leading Chinese manufacturer in the display industry, to further evaluate our PHOLED materials," said Steven V. Abramson, president and CEO of Universal Display. "Extending our collaboration demonstrates BOE's commitment to provide advanced display solutions using our high performance, energy-efficient PHOLED materials and technology."
NPDDisplaySearch predicts that by 2020, OLED shipments can reach 540 million units as OLED revenues increase to $26.9 billion because of recent demonstrations of OLED TVs by major manufacturers and their growing usage in mobile devices.
Universal Display points out several advantages of OLED diplays compared to other displays types including a higher contrast ratio, a faster response time for video and graphics, a thinner form factor, a wider viewing angle with no degradation of contrast ratio, compatibility with alternative substrates (i.e. plastic, aluminum foil), and lower switching voltage and power consumption.
LG Display Debuts 18-inch Flexible and Transparent OLED Panels
LIGHTimes News Staff
July 10, 2014...
LG display reported that it created an 18-inch, transparent and flexible OLED panel that is rollable. The flexible panel has a high-definition resolution of 1200 X 810 with nearly 1 million mega-pixels. The panel has a curvature radius of 30R, and it can reportedly be rolled up to a radius of 3cm without affecting the display's functioning. The company points out that the new flexible OLED display proves that in the future, it can bring rollable TVs of larger than 50 inches to the market.
Instead of conventional plastic, LG Display utilized polyimide film as the backplane of the flexible panel to achieve the maximum curvature radius. The polyimide film also allowed a thinner panel, which significantly improved its flexibility. The transparent OLED panel boasts 30 percent transmittance through the use of the company's transparent pixel design technology. LG Display reports that it successfully lowered the haze of the panel, which is generated through the use of film components and circuit devices, to a level of just 2 percent. The new panel has about three times the transmittance of existing transparent LCD panels which have a transmittance of around 10 percent.
"LG Display pioneered the OLED TV market and is now leading the next-generation applied OLED technology. We are confident that by 2017, we will successfully develop an Ultra HD flexible and transparent OLED panel of more than 60 inches, which will have transmittance of more than 40 percent and a curvature radius of 100R, thereby leading the future display market." said In-Byung Kang, senior vice president and head of the R&D Center at LG Display.
Panasonic India Launches Large, Multi-Touch Displays
LIGHTimes News Staff
July 8, 2014...
Panasonic India has debuted its LFB70 series of multi touch interactive LED displays. The displays, which come in 50-, 65-, and 80-inch models target the education and corporate markets. The LFB70 series of professional full HD displays incorporate interactive whiteboard functionality with intuitive touch screen technology. The LFB70 series offers up to six touch points and wireless connectivity.
The LFB70 series of displays have built-in whiteboard software that allows users to instantly use the display as a whiteboard without the need to connect to a PC. The displays allow production of up to 100 pages of work on the whiteboard. These pages can also be saved to the built-in memory or USB thumb drive as JPEG image files.
The series employs the next-generation wireless technology Miracast, enabling high-speed wireless transmission of content including full HD video, from Miracast compatible devices to the displays.
Vineet Mahajan, Head, Display Solutions, Panasonic India, said, "The launch of these series is yet another step towards enhancing our portfolio offering next-gen interactive training features in the professional display category. These series come with features providing an opportunity for professionals to consider the future of digital teaching equipment for classroom or boardroom purposes."
The displays are available immediately in three models, TH 80LFB70, TH 65LFB70, TH 50LFB70.
Heartland Event Center to Upgrade Centerhung with Daktronics Video Displays
LIGHTimes News Staff
July 3, 2014...Daktronics Inc. of Brookings, South Dakota USA, announced that the Heartland Event Center in Grand Island, Nebraska, commissioned the company to design, manufacture and install four new video displays. The displays will replace the displays currently being used in Heartland's centerhung. Daktronics will also be working with Henn Signs of Grand Island, Nebraska, to resell the previously-installed equipment. The Heartland Events Center has scheduled the installation for early this summer.
Heartland Events Center CEO, Hugh Miner, Jr has noted, "The upgrade of the Daktronics video display along with video cameras will greatly enhance the ability of patrons attending events to enjoy a production that better captures all of the activity going on during concerts, sporting events and other events held in the facility. The upgrade will also provide the option of showing replays to those attending an event. Daktronics has provided HEC with great service since the facility opened in August of 2006, and the upgrade in technology will be a welcome addition."
The four video displays with six millimeter line spacing will each measure about seven feet high by seven feet wide. According to Daktronics, the video displays demonstrate excellent image contrast and clarity and wide angle visibility.
The displays can be divided into separate windows to show a variety of color animations, vivid graphics, scoring information, up-to-the-minute statistics, and sponsor advertisements. They are also capable of showing one large image to highlight live video and instant replays.
"Daktronics is excited about the opportunity to be working with the Heartland Event Center and Henn Signs on this technology upgrade," said sales representative Matt Warnke. "These new displays will provide improved image clarity and enhance an already great venue and experience."
Curved LED Display Created to Preview Atlanta Falcon's New Stadium
LIGHTimes News Staff
July 3, 2014...NanoLumens, a maker of LED displays, and ICG, a digital media firm created an immersive curved LED display installation. The installation is to preview the Atlanta Falcon's new stadium that is being built. The 303-inch long elliptical LED NanoCurve display has a 5-millimeter pixel pitch and measures 219 inches wide and 42-5/8 inches tall. ICG set up the Halo shaped LED display in a prefabricated environment. ICG's team integrated their brdKstr live event controller. ICG also designed and created 3D animations that finalize the digital installation.
"Working with the Atlanta Falcons organization, NanoLumens and Legends has allowed for a collaboration that far surpasses anything seen to date," Gordon Davidson, ICG's CTO, said. "Cumulatively we intend to change the way professional sports organizations interact with their loyal fans. This facility is the most technologically advanced preview center in the world and we are pleased to demonstrate a glimpse of what the new Atlanta Falcons' stadium will offer when it opens in 2017."
"The new $1.2 billion multi-purpose stadium will be a state-of-the-art, iconic sports and entertainment complex designed to attract world-class sports, civic, cultural and commercial events, and will serve as a landmark for the city of Atlanta," Nate Remmes, NanoLumens director of business development, said. "The center has been created to sell tickets and had to be every bit as exciting and technologically advanced as the stadium it serves, and we are proud to be the LED display solutions provider chosen by the Falcons organization to make this happen."
You could own this space...
For information on our plans and to reserve promotion space contact
Send us an email
or call +1 (512) 257-9888