Sponsored Links
For Europe/Asia:
---
Editorial: Still Plenty of LED/Lighting Breakthroughs Left

... For many in the LED industry who have watched, and lived, the steady march of technology for the last decade, it's pretty easy to get jaded about the technology. Not in a bad way, but just a bored kind of one. "Let me guess," they say, "next year we'll...
Read the editorial...
(or permalink is here)
Features:
Welcome to your LED Applications news channel!
The opportunities presented by the increasing rapid adoption of high brightness LEDs, in all their forms and applications, represents nothing short of a "digital revolution" for a previously "analog" world. LEDs are having a substantial disruptive effect on a number of established technologies, and where there is disruption, there is an intense need for information.
LIGHTimes Online is here to serve the information needs of the LED industry supply chain, as well as integrators and non-architectural application solution providers with technology, product and market news updates for these rapidly evolving devices. Our readership also includes LED packagers, technology enablers and service companies seeking the the answers to how best to meet their customers' needs.
For architectural lighting and applications news of interest specifically to lighting designers, specifiers, and architectural lighting decision makers, along with luminaire designers, lighting system integrators and lighting subsystem developers, please visit our sister publication, Solid State Lighting Design.
---
SSL is booming and the 2011/2012 Summit Series is coming back to keep the message on quality
Launched in 2008, the SSL Summit will bring the quality story to New York City in October 2011, and then back to LA in March 2012. At every one of the Summit events, the feedback remains consistent: Just what we need, do it again soon. The Summit brings together lighting decision makers with industry thought leaders, pioneers, and innovators from the across the solid state lighting eco-system.
Continuing the tradition, 2011/2012 will continue to be all about quality, quality, quality. Showcase participants and sponsors are vetted to separate the wheat from the chaff (have your IES LM-79 test reports ready!). Last year's event in NYC included representatives of over 100 million square feet of developed property, and the one thing we don't want to leave out for 2011 is you! Look into the series information at www.SSLsummit.com for the details. Sponsorships are available for the full series.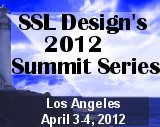 ---
GaN LEDs in Automotive to Reach $1 Billion in 2014, According to IHS
LIGHTimes News Staff
October 23, 2014...The LED Intelligence Service of IHS Technology (IHS) predicts that the market for GaN packaged LEDs in automotive applications will reach the $1 billion mark this year for the first time. IHS forecasts that industry revenue will grow 11 percent from $943 million in 2013 to $1.05 billion in 2014. IHS contends that the growth comes from vehicle exterior applications such as headlamps and daytime running lights, where LED penetration is still low.
However, IHS notes that the LED value per vehicle can be quite high. Osram, Nichia and Lumileds are ranked by IHS as the market's leading three suppliers, and IHS says they are particularly dominant in vehicle exterior applications.
Audi has been a leader in using LEDs in its vehicles (especially in daytime running lights) since 2008, according to IHS, and many other manufacturers have followed the trend to using more LEDs in automotive applications. IHS points out however that many vehicles even at the high end of the market such as the $100,000 Tesla Model S, still do not use LED headlamps. Moreover, daytime running lights, cornering lights and indoor ambient lights are only available as an option rather than as standard. IHS forecasts that LED lighting should increase in vehicles over the next several years, growing further to $1.3 billion in 2018.
Research Association Produces Prototype LED with 256 Light Points for Adaptive Front Lighting Systems
LIGHTimes News Staff
October 23, 2014...Osram Opto Semiconductors reports that after just one and a half years, the company and its partners on the µAFS research project have developed a new LED chip with an unrivaled array of 256 light points (pixels). Previously pixel systems were based on a large number of individual LEDs. Funding for the project, a total of seven million euros, comes from the Federal Ministry of Education and Research as part of its focus on "Integrated Microphotonics". The project will run until January 31, 2016.
The project's goal is the development of a new class of energy-efficient LED headlamps which may then provide the basis for adaptive front lighting systems. The project intends to design systems that will improve the illumination of the road ahead through actively adapting the light distribution for the driving and traffic situation without dazzling other road users.
Experts from Osram Opto Semiconductors, Osram Specialty Lighting, Infineon Technologies and the Fraunhofer Institute for Reliability and Microintegration IZM jointly developed a prototype of an LED-based adaptive front lighting system.
Previous adaptive front lighting systems (AFS) have one pixel corresponding to one LED component or one chip. However, in this prototype one chip contains 256 pixels, which can all be individually controlled. Osram Opto notes that the 256 pixels per chip prototype is the first step to light sources with more than 1000 pixels. Osram Opto Semiconductors developed the new pixel chip with defined light patterns in blue and white . According to Osram Opto, the challenge was to define the light points during chip processing itself and enable them to be linked directly with the control system. Infineon Technologies developed the driver chip to directly and individually control the numerous light points. As the specialist in mounting technology, Fraunhofer IZM made it possible to couple the light-emitting pixel chip with the controlling driver chip.
Osram Opto Semiconductors structured the chip surface and attached the converter for creating white light to complete the prototype. This demonstrator proves the feasibility of having a particularly high resolution, which is needed to enable the dynamically adjustable light pattern with a high degree of precision. Osram Opto Semiconductor contends that the technology in the prototype will open up special automotive lighting options such as city lights and bad weather lights.
In one of the next steps, the Osram Specialty Lighting business unit, intends to transfer the prototype to a light module with electrical, mechanical and thermal interfaces. Future goals of the project include developing intelligent control and an appropriate connection to the vehicle bus to ensure extremely fine control of the light.
µAFS project partners Hella, the automotive lighting specialist, and Daimler, the car manufacturer, will then take over. Hella is responsible for the development of the optical system and the thermal management system, including the design of the complete headlight. Daimler has already contributed specifications and requirements for the bus connection and optics within the project, and is responsible for detailed testing of the headlamp and therefore for the final process.
Jacket Mimics Chameleon
LIGHTimes News Staff
October 21, 2014...Remember those TVs with ambient LEDs that were introduced a few years ago but never really caught on, a company called Drap og Design has created a jacket with an analogous, chameleon-like function. Drap og Design's Interacket, which is presented on maker site Hackaday, allows your jacket to mimic the colors of objects that you touch. Built in sensors detect the color of objects you touch with your hands. Strips of RGB LEDs change color to match the color of the object that your hand touches. The kit uses Adafruit Neopixle LED strips, Adafruit color sensors, and a pair of Arduino Uno Chips. The system is powered by a single 9V battery
The kit uses a pair of Arduino Uno chips, Adafruit Neopixel LED strips and Adafruit color sensors, all powered by a single 9V battery. The jacket itself is made of reflective foil and diffusive fabric to allow the coat to prominently display the colors picked up by the sensors. From the video, you can see that the design groups first prototype is cool but it does not have practical uses. It is far from the resolution required for practical uses in defense or military applications.
The company says that it has nearly completed its second prototype of the Interaket. Who knows what future iterations of the jacket could be capable of. Drap og Design says it also has other design ideas that it is developing that attempt to give humans the "powers" that some other animals have. You can check on their progress on the Drap og Design webpage, or by following them on Hackaday.
Ford and NextEnergy Announce Automotive Lighting Challenge
LIGHTimes News Staff
October 16, 2014...Ford Motor Company and NextEnergy, have issued a challenge to LED and automotive lighting suppliers to help advance state-of-the-art automotive lighting. The initiative was announced during a lighting exposition held at Ford's Product Development Center. Some 30 suppliers and would-be suppliers gathered to address the challenges and opportunities presented to the automotive industry by the rapidly changing lighting technology.
The initiative includes technological goals that are separate aspects of the challenge. Parts of the overall challenge include: the Featherweight Challenge--to develop automotive lighting products that produce the greatest amount of light but have the lowest weight; Design for Manufacturing Challenge--device methods of making existing advanced automotive lighting technology more cost effective and suitable for high-volume production; Daylighting LEDs--developing automotive interior LED lights that emulate daylight; Structural Lighting--Integrate LEDs and OLEDs into interior and exterior automotive structural components, such as seats and door panels.
An additional technological challenge is to develop more sustainable products including designing recyclable automotive lighting technology and biodegradable automotive lighting.
The challenge will officially be launched on Nov. 19 at the Michigan Advanced Lighting Conference in Lansing. Support for the program comes from the Michigan Economic Development Corporation's Pure Michigan Business Connect initiative to help identify qualified Michigan suppliers.
Ford and Detroit-based NextEnergy will outline a scoring matrix to determine winners. Late next year, competing teams will present their ideas to a panel of Ford and NextEnergy experts, with one or more prizes awarded. The prizes, provided from the state of Michigan through Michigan Economic Development Corporation and NextEnergy, will include up to $40,000.
"Ford is very interested in maintaining leadership with the use of innovative lighting for the benefit of our customers," said Dean Stevenson, chief engineer, Ford Global Design Engineering.
Wayne Bahr, chief engineer, Ford Global Body Exterior Systems, said the challenge "should help us innovate faster and increase the capability of our lighting supply base."
The 2015 Ford F-150 uses LED headlights, side view mirror lights and cargo bed lights. The 2015 Ford Mustang employs a LED-based brake lights, turn signals and taillights.
"NextEnergy's collaboration with Ford will encourage open innovation," said Jean Redfield, president and CEO, NextEnergy. "While this technology challenge will solicit global solutions, we expect Michigan's advanced lighting industry to be among the solution providers, driving significant economic activity in the state."
Intelligent LED Solutions Launches New UV LEDs for Industrial Applications
LIGHTimes News Staff
October 16, 2014...Intelligent LED Solutions (ILS) of the UK, has launched new high-power UV LEDs for industrial applications. The company designed the UV power LED to have higher thermal endurance, for better reliability at higher temperatures. The UV LED comes in a range of output powers, package formats and wavelength options ranging from 365nm to 420nm and output from 320mW to 7000mW.
The high power UV LED range is suited for industrial applications such as DNA sequencing, counterfeit detection, polymer curing, ink curing, aquarium lighting, and medical applications. The UV LED has a vertical chip structure on the company's patented metal alloy substrate. The LED offers the company's advances in optical output and high thermal conductivity.
"UV LED technology is playing an increasing role in industrial design," said Adrian Amor, director at ILS. "The new high power UV LED range pushes the boundaries of what is possible. The high power LED offers a more efficient and more robust solution for engineers working to develop demanding applications that require a UV light source."
"For those exploring UV LED technology for the first time, our team at ILS are able to provide design support and prototyping within the European market place," said Adrian Amor. "We also have the capability to deliver production LED and assemblies to wherever in the world that the customer's manufacturing or assembly is being undertaken."
ILS is making available star boards with wires, strips and component LEDs through RS Components.
Duke Researchers Speed Up Fluorescence for Faster Turn-on LEDs
LIGHTimes News Staff
October 14, 2014...Duke Researchers Speed Up Fluorescence for Faster Turn-on LEDs
Duke University researchers have made fluorescent molecules emit photons of light 1,000 times sooner after being turned on than normal. While LEDs appear to turn on instantly, they are apparently not fast enough to make light-based communications truly practical. Modern telecommunications systems, operate nearly a thousand times faster. Atoms in an LED can emit about 10,000 photons when the LED is turned on. The researchers sandwiched fluorescent molecules between metal nanocubes and a gold film to achieve record photon emission rates from the molecules. The results appear online October 12 in Nature Photonics.
"One of the applications we're targeting with this research is ultrafast LEDs," said Maiken Mikkelsen, an assistant professor of electrical and computer engineering and physics at Duke. "While future devices might not use this exact approach, the underlying physics will be crucial."
Mikkelsen's group created 75-nanometer silver nanocubes and trapped light between them, producing much more intense light. Through an effect called Purcell enhancement, the molecules emit photons at a faster rate when fluorescent molecules are placed near intensified light.
The group with the help of co-author David R. Smith, the James B. Duke Professor and Chair of Electrical and Computer Engineering at Duke, used computer simulations to determine the exact size of the gap between the nanocubes and gold film so that the gap's resonate frequency maximized the photon emission rate for the color of light that the molecules respond to. The optimum gap was just 20 atoms wide. Because the experiment used many randomly aligned molecules, the researchers believe they can get the emission rate even higher.
Osram Claims Lab-Produced LED Brightest Ever for Car Headlights
LIGHTimes News Staff
October 14, 2014...At Vision Congress in Paris (October 14 and 15, 2014) Osram Opto Semiconductors is showcasing an LED for car headlights, which the company says has three times the luminance of existing versions. The company notes that this single LED can provide a complete low beam. Whereas several LED chips were required in the past with the number dependent on the design and the type of LEDs used.
The company says it developed the new LED's tremendous brightness using a combination of its ceramic conversion technology, its UX:3 chip technology, and high-current technology used in projection applications. Osram Opto boasts that future headlights could be much smaller with every lighting function smaller than a box of matches.
While currently the LED being showcased is a lab-based result, the company contends that a low beam unit measuring only 30 mm x 50 mm generating a 1400 lumens from a single LED chip could be a reality in just a few years. The 200 megacandelas per m² LED has three times the luminance of existing LEDs for these applications. It loses less than ten percent of its intensity even at high operating temperatures of 85°C, according to the company.
"In developing the LED we applied our extensive experience in projection applications to combine the high-current technology used in such applications with UX:3 chip technology and ceramic conversion technology which is standard practice for white headlight LEDs," said Stefan Grötsch, Senior Key Expert at Osram Opto Semiconductors.
Like the company did with its Osram Ostar used in projection applications, the company soldered the chip directly to the copper. The copper allows large amounts of heat from the high-output LED to be dissipated much more easily. The company says that under laboratory conditions, the light distribution from the LED proves that it will meet the standards for automotive headlights.
GPE Ardenghi Srl Introduces New Screen Printer With UV LED Curing
October 9, 2014...GPE Ardenghi srl of Hillsboro, Oregon USA, has introduced the new Mod. GPE/24-LED automatic screen printer. UV LED curing technology enables the printer. The new machine can perform screen printing on pens, barrels and other small round articles. The printer employs LED technology from Phoseon that provides the maximum UV output with lower energy consumption, and cooler operating temperatures that allow for printing on heat sensitive substrates. 
You could own this space...
For information on our plans and to reserve promotion space contact
Send us an email
or call +1 (512) 257-9888